Pennsylvania State USBC
20

th Youth Open Championships - 2024
This tournament is Open to all Youth members within the State of Pennsylvania. It features a 4 person team event with three handicap divisions and a scratch division. Doubles is also offered with the same format. Singles and All Events are also offered with four divisions for both boys and girls, three handicap and one scratch. This tournament annually awards approximately $45,000 in scholarships every year.
---
Youth Open Championships Tournament Director
This position is currently open - to apply, see the job description here.
---
Tournament Information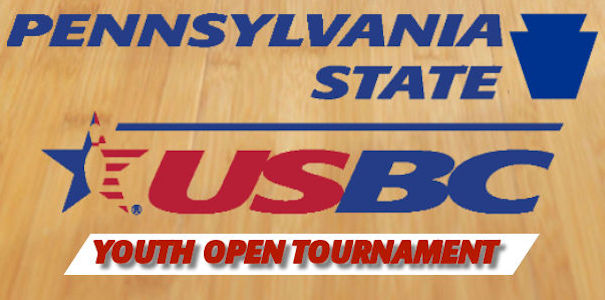 Entry Form
Complete Entry Form
Blank Entry Fillable Entry Info Rules
Online Entry Form
Center Information
Team Center
Doubles & Singles Center

Hampton Lanes
326 Main Street
Northampton PA 18067
610/262-6713

Jordan Lanes
731 Jordan Pkwy
Whitehall PA 18052
610/437-2695
Squad Dates
April 6-7, 2024
April 13-14, 2024
April 20-21, 2024

Squad Times
TEAM EVENT
DOUBLES EVENT
SINGLES EVENT
Saturdays
9:00 AM
12:30 PM
4:30 PM

Sundays
9:00 AM
12:30 PM
Saturdays
10:30 AM
1:30 PM
5:00 PM

Sundays
10:30 AM
1:30 PM
Saturdays
9:00 AM
12:00 PM
3:30 PM

Sundays
9:00 AM
12:00 PM


Tournament Dress Code
The Tournament Dress Code Policy is applicable to all Tournament Participant
Top